Although I usually write detailed blog (diary) entries about my travel adventures on my Williamsport Web Developer web site, I will write posts about my Dublin vacation here since I am attending the Dublin Theatre Festival on a group tour curated by the Irish Repertory Theater in New York City. The Irish Repertory Theater is one of my favorite theaters in New York City, although I have not seen a show there since the pandemic struck. The opportunity to meet Marina Carr, my favorite Irish playwright, was too good to pass up.
I arrived in Dublin on Tuesday, October 3rd, a day before we needed to be there. When I say "we" I mean the tour group, I traveled alone. I wanted to leave a cushion for any flight cancellations. My flights were delayed a little bit but fortunately none were cancelled outright. I flew from Harrisburg International Airport to Newark Liberty International Airport to catch an international flight to Dublin Airport. My international flight was delayed slightly by the need to clean a toilet, of all things. During the flight I watched the movie Avatar: The Way of Water. I had a window seat and there was nobody else seated in my row so I had plenty of room.
Upon arrival at Dublin Airport I had to show my passport to security and collect my bag. I tried to use my debit card at an ATM but it refused to process the transaction. That was the first thing to go wrong. I went outside to the taxi stand and got a taxi to my hotel, Merrion Hotel. I was able to leave my bags at the hotel but I could not check into my room. That was the second thing to go wrong since it was a long time before I could get to my room to tidy up and take a nap.
Since I had hours to kill I walked to Merrion Square, a public park close to the hotel. I sat on a bench to put on my ankle support. Sometimes my left ankle gets cramped when I walk any distance in a city. In Marrion Square I found the George William Russell Bust.  George William Russell is more commonly called AE. He was a visionary poet and friend of William Butler Yeats. I have read many books on George William Russell, but not many of his poems, oddly enough, so it was very meaningful to find his memorial bust in Dublin.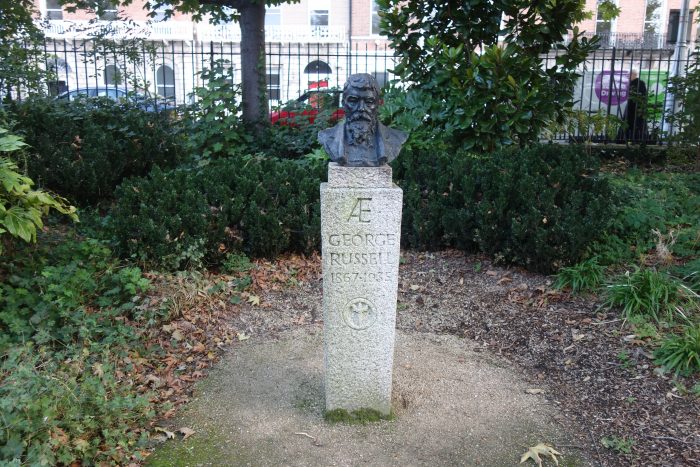 From Merrion Square I walked around many streets in the vicinity. I found the entrance to the National Gallery of Ireland museum but they were closed. They keep short hours on Monday. Now that I think about it, it was Tuesday so they actually were open! I did locate and take a photo of The Pig's Ear, the restaurant where we will have our welcoming dinner.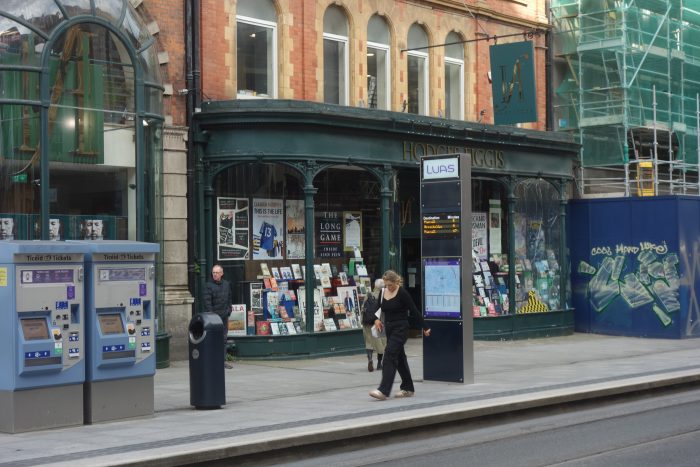 Next I located Dawson Street where I found the Hodges Figgis book store and Bestseller Café. The Hodges Figgis book store is an iconic book store where many literary events are held like book signings and lectures. It is a large store with many floors so I had to ask the cashier to locate the Drama section which is upstairs. I bought three plays; Killer Joe by Tracy Letts in an unusual Nick Hern Books edition, Our New Girl by Nancy Harris, and Crossings by Deirdre Kinahan. After making that purchase I went to the Bestseller Café and had lunch. I ordered a BLT and an iced cappuccino. The sandwich was way too hot, so hot I could not even hold it. I don't mean it was hot as in spicy. It was actually unusually hot. Anyway, I picked up a flyer for the play Tempesta by Deirdre Kinahan, having just bought one of her books.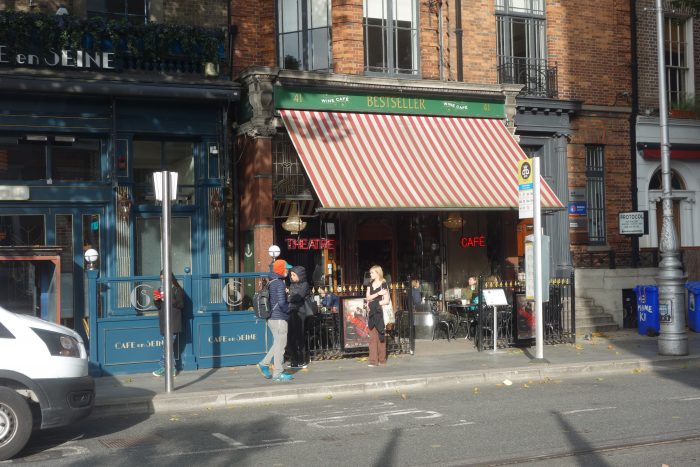 After lunch I was on a mission to find a SIM card. I went into the Stephen's Green Shopping Centre where I found a phone store that gave me a free Lyca SIM card. Unfortunately I don't have a SIM removal tool so I cannot replace the SIM card in my phone. This was the third thing to go wrong. I found the The Gaiety Theatre on South King Street so I took a few photos of that theater.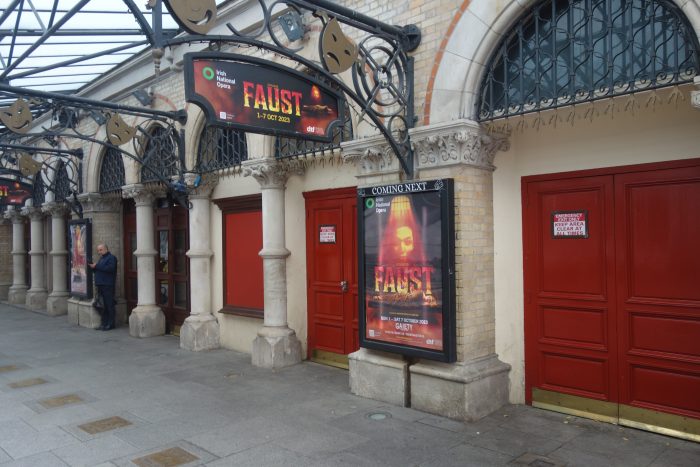 I took a few photos on Grafton Street and then the fourth problem occurred. The telescoping lens of my digital camera got stuck. It would not retreat back into the camera. I tired turning my camera off and on again. I tried removing the battery. But nothing would fix the problem. Fortunately I was standing right outside the Camera Centre store on Grafton Street so I just went inside and bought a Panasonic DC-TZ95D Lumix. This was expensive but I had considered buying a new digital camera since my old camera has been acting flaky before this.
After that happened I thought I've had enough so I walked back to the hotel. My room was not ready so I had to wait in the bar for hours on end. During this time I did manage to reset my smart watch so it shows Dublin time. My phone was able to use the hotel WiFi but it almost drained down during the long wait. I was extremely tired and annoyed by the waiting.
At 2:00 p.m. I was finally shown to my room where I could set up my laptop and get things sorted out. I immediately took a nap. Then I contacted my bank about my debit card. Then I made unsuccessful attempts to replace the SIM card in my phone. I charged my phone and examined my new camera. First I transferred my photos from the SD card of my old camera to my laptop since I will be using this SD card in my new camera. All in all, there was quite a lot of things to sort out when I was finally in my room.