For the second day of my Dublin Theatre Festival trip there was nothing scheduled for the morning so I made it my mission to get my SIM card changed. My efforts to replace it with a Lyca SIM failed because I do not have a SIM removal tool. I tried using a bent staple, a safety pin, and sewing needles but nothing worked.
I went to the Henry Street Three Store which is just around the corner from the General Post Office which is now a museum. I walked there but I did not head off in the right direction. I found myself in the Silicon Docks area which I did not realize until I came across the Google headquarters. Since I did do some research on the Silicon Docks I knew I was far to the east of where I wanted to go. Anyways I took a lot of photos and even came across the Lir Academy which is Ireland's premier performing arts school. I walked a long ways west on Pearce Street to finally find O'Connell Street.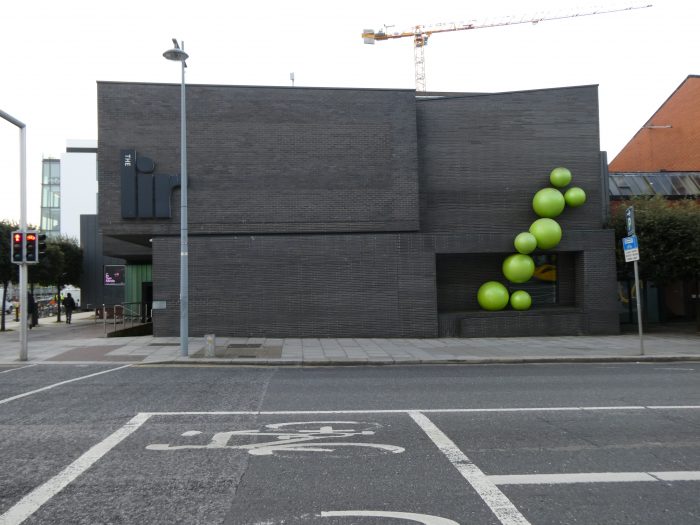 The Henry Street Three Store sold me a Three SIM card for 20 Euros and even replaced my SIM card for me. I was proud that I managed to overcome this travel difficulty. I always recommend travel to people who need to boost their confidence. Travel can be a very daunting prospect and a lot can go wrong. But you will feel more confident in life if you can overcome these little challenges. Best of all is the fact that it is often easier than you imagine! I don't need this SIM card to take any calls. But I do need it to receive messages when there is no WiFi service.
It took me a long time to walk back the hotel and I was worried that I would get lost and miss our first outing. But fortunately I made it there with a half hour to spare and actually had to wait around to meet the people from the Irish Repertory Theater in front of the hotel. I met the three women who work for the Irish Repertory Theater; Anna Collins, Emilia Smart-Denson, and Nicola Murphy. They are in charge of this trip. I also met some of my fellow theater enthusiasts, mostly old people who are probably retired and have the means to afford such a trip.
We walked to the Chester Beatty Museum and Library in the Dublin Castle. It was a fairly long walk so I took a few photos along the way without losing the group. At the Chester Beatty Museum and Library we first saw a Chinese robe which the tour guide insisted could be read as a book. Then we saw a set of samurai armor and swords which was interesting because you can use these in the video games I play. It is surprising how many weapons choices and armor sets you have in video games. You eventually learn a lot on the subject. We also saw some Korans and the Chester Beatty Biblical Papyri. So it was more of an exhibit on comparative religion than an antiquarian book museum.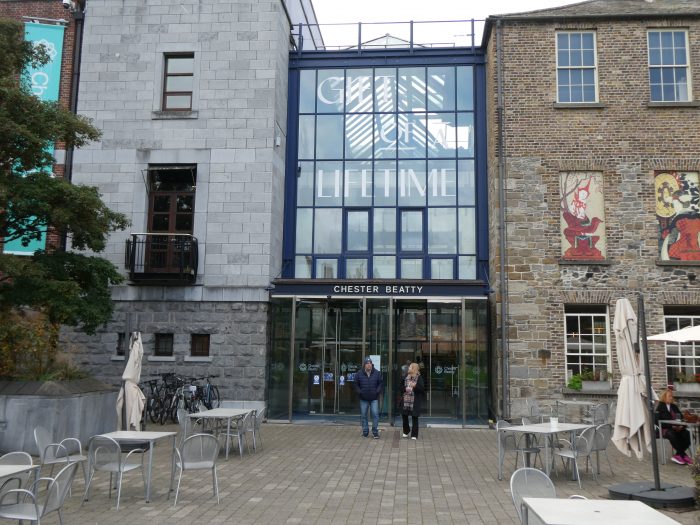 On the walk back to the hotel I stopped at Hogans at South Great George's Street and drank a tall glass of Irish cider because I was parched. I had this pub confused with a place to eat but they only serve alcohol. There was no table service. Where I did go for lunch was Hugo's Restaurant on Merrion Row. I ordered the sandwich of the day so I don't really know what it was, but it was delicious. I also drank a bottle of Dan Kellys Cider. I really like Irish cider. Drinking that much made me slightly drunk, but not enough to cause serious impairment.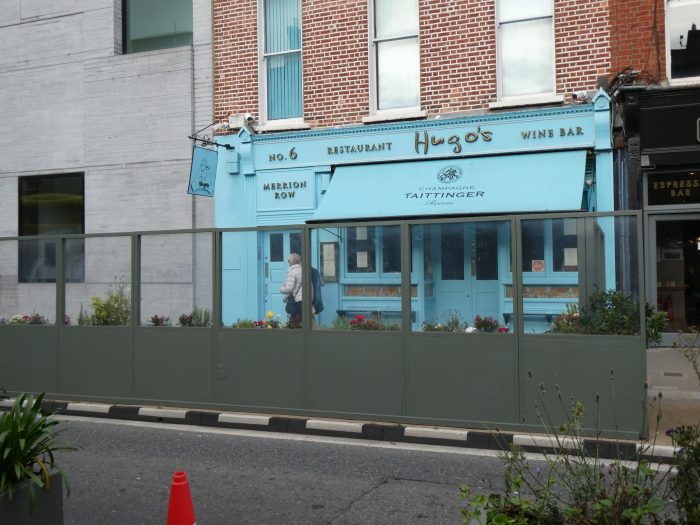 That evening we had the official welcoming dinner at The Pig's Ear, a restaurant with one Michelin Star. It offered a three course meal. I ordered the salmon, which unexpectedly was uncooked salmon, pork which was a little fatty, and a dessert of a single teaspoon of ice cream and a small slab of some kind of cake. Frankly, this was pretty underwhelming. One of those meals that is all presentation with little substance. Not that I minded. I'm just being honest. The most interesting part of the evening was when everyone was asked to stand up and state their favorite play. There were some interesting choices. I said my favorite play was Hamlet because frankly that is the greatest play ever written. It was the very first play I was introduced to in high school. I have only ever seen an amateur production of Hamlet but I do have every filmed version on DVD. I have also read several books on the play.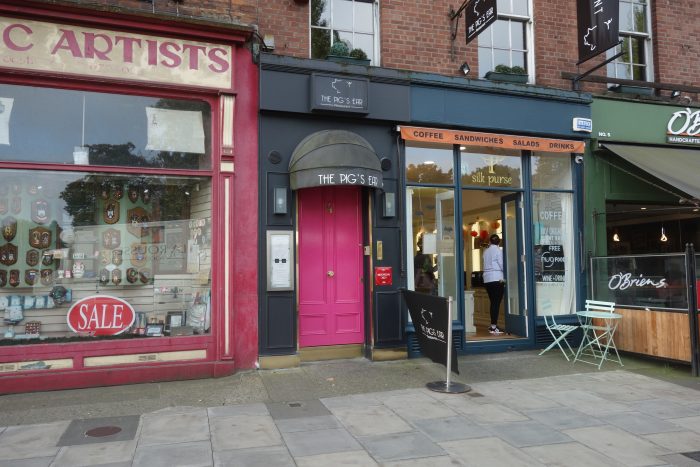 On the walk back to the hotel I did get a little lost and went too far past Merrion Square. I am slowing getting more used to the area.